Rowing Community Fun
Discover the best places to row
Sign up for an Adventure Trip
See our East Coast Community Calendar
Post stories and pictures
Join us on Facebook
Stable and Portable Boat
The ECHO's unique folding riggers make it easy for you to transport and launch. No other rowing shell offers this feature or makes it easier for you to launch from any beach or dock. Compare to other boats built for flat water, Echo boats are designed for open water, allowing you to enjoy exploring varied coastal environments with confidence, knowing an Echo can handle chop, wakes and swells.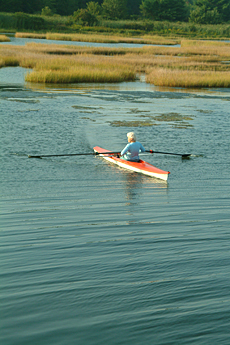 Tranquility in the marshes
Marsh Harbor, Maine
"I have rowed an Echo in open water…and what I noticed immediately was the secure feeling you got in any kind of chop or waves. It is a great boat for open water...you can't go wrong with an echo if you want a stable, wave-worthy, ocean row boat."
-- George Medelinskas
Coastal Rowing For Recreation
Open water rowing is the ideal way to refresh your mind and body through an activity that allows you to escape and connect. You will escape the busy, noisy clutter of life. You will escape from your responsibilities for a while. You can connect with other rowers, friends, and family. You will connect with nature. Most importantly, rowing allows you the opportunity to re-connect with yourself.

The water's fine!
There's no better place to have fun than on the open water. Whether you want to fish, want to travel a distance, or just want to cruise along the coast at a leisurely pace, rowing an
Echo boat
is the only way to go.
Peace of mind
Open water rowing relieves stress and allows you the opportunity to remove yourself from the world around you, to connect to the calm and quiet of the sea, and to meditate through the rhythmic, repetitive motion of your stroke. Feel the power of your body, regulate your breathing, fill your mind and spirit with the calm that comes from low impact exercise combined with nature and the healing benefits of being outdoors.
Commune with nature
All your senses can be expanded through outdoor recreation. Enjoy the scenery and sounds on the water. Feel the clean air as it fills your lungs. Let the warm sun provide you with the vitamin D your body needs. Remove yourself from the constraints of technology and discover the vast and valuable resources outside.
Socialize
Open water rowing allows you to hit the water alone or with a partner. It's a great way to connect with family and friends. Join an open water rowing club, a rowing team, or sign up for rowing activities. Interested in learning where other people are rowing and joining in? Rowing For All participates in, and has an active presence on,
http://www.meetup.com
. We will sponsor your local meet up group and consult with you to get it started if you don't know how. Simply
contact Maryellen Auger
to co-organize your group and develop more opportunities for rowers to get together and do what they love!
Have an open water adventure
Whether your idea of an adventure is an hour alone, away from the demands of life and work, or a longer, more organized trip that involves meals, maps, and motivation – rowing is the perfect solution. If you're on the East coast, sign up for one of Rowing For All's open water
adventure trips
!