Missed the 2015 Sculling Intensive?
$100 deposit saves your space for 2016!

Fri-Sat-Sun
May 20 - 22, 2016

For intermediate to advanced scullers only.

Limited to 10 rowers.
Register on-line today!

3-day Sculling Intensive with Coach Gordon Hamilton



For intermediate & advanced scullers to improve their single sculling skills on open water. Lessons, practice drills and daily individual video critique of technique.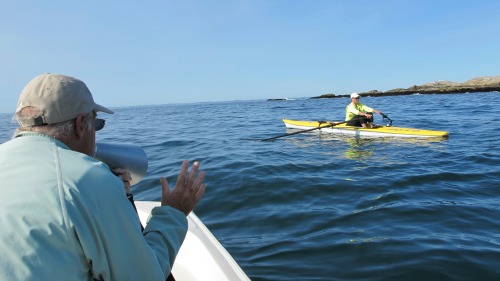 ABOUT OUR ESTEEMED COACH
Gordon Hamilton has more than three decades of university, national, and international coaching experience. His university coaching has included MIT Head Men's coach for 20 years, Williams College, and University of Virginia. He has coached US women's sweep and sculling national teams at the World Championships, Goodwill Games, and World University Games, in addition to international crews from Puerto Rico, Peru, and Brazil. Currently, Gordon is Head Coach at the Florida Rowing Center and aregular guest coach at Cambridge University Women's Crew (England), Open Water Rowing Club (CA), Craftsbury Sculling Center (VT), and is the chief coach at Cambridge Boat Club in Cambridge, MA. Gordon was educated at Columbia University and Trinity College, Cambridge University.
Gordon Hamilton is the author of Sculling in a Nutshell.
Where to Stay:Visit the Marblehead Chamber for a complete listing of B&Bs and inns a short stroll from Little Harbor Boathouse
Cancellation Policy:
We encourage early registration and a full commitment to the program.  A $75 cancellation fee will be assessed for cancellations from the program up to one month prior to the start date (May 5, 2015).  Otherwise, no refunds will be allowed.  The Sculling Intensive will run with no less than 6 participants. A full refund will be issued on May 22, 2015 should there not be enough participants.  On absences:  Please let your coach know of absences ahead of class to support planning and smooth running classes.

Weather & Clothing
What to wear:
  Bring 2 sets of rowing clothing. Dress in layers suitable to weather conditions.  Wear water shoes for rocky beach launches. 
Rain or Shine: 
All rowing programs meet as scheduled, rain or shine. If severe lightning, wind, or storms are present, participants will not be permitted on the water and an alternative indoor instructional class will take place. Classes will not be rescheduled due to weather.
DAILY SCHEDULE: May 20-22, 2016 from 7:30-2:30
Sculling Intensive on Open Water

Each 7-hour day of single sculling instruction begins at 7:30 am and concludes by 2:30 pm.

Daily sessions begin at 7:30 am. The first row is a 120-minute session with boathouse and on-water instruction, individual coaching, and videotaping. Coach Hamilton works with each sculler from a Boston Whaler and each sculler is videotaped.

Following the morning row, students and coaches enjoy a leisurely hot breakfast at a nearby restaurant. The group then goes to a classroom for 1 to 2 hours of detailed video review and discussion of technique. Following the classroom instruction, scullers return to Salem Sound for a second coached session on the water focused on practice, drills, and individual attention. The second session lasts 90 to 120 minutes. A double scull is also available for use upon request.

Sessions start promptly at 7:30 am. Please arrive on time. Parking is available as are rest room facilities at boathouse, and a lock box is on site for keeping backpacks and valuables when scullers are on the water.
$450 Tuition**
Tuition includes:
lessons, coaching, videotaping with critique, daily hot breakfast with Coach Hamilton and other students.
**Add $145 for use of Echo Open Water Rowing shell loaner (loaner fee applies to same month Echo Rowing Shell purchase). Note: only 2 loaner open water shells are available.  We encourage you to bring your own open water shell. Traditional shells are not suitable for open water and this program and will not be permitted.
On-line registration is active!

Make checks payable to: Rowing For All LLC
Little Harbor Boathouse, 40 Doaks Lane, Marblehead, MA 01945
For more info call 781-990-3552