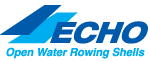 2013 Retail Price: $4,300 
Call today! 1-781-990-3552

Contact us by email
Fill out our easy-to-use form

We sell and ship ECHOs everywhere; call us to arrange for purchase and delivery.
"What a FUN boat!!! It's actually quite a bit faster than I thought it would be and the craftsmanship is second to none. I heard from a few about the tracking issues...well I hadn't been rowing in about 6 years so at first it was a little hard to keep it headed in a straight line...However, after I balanced my stroke out it was fine. I liked the fact that it actually forces you to row smoothly and evenly...I can't wait to be rowing it on a regular basis...I have rowed many different boats and for pure recreational enjoyment you can't beat the Echo...of course that is only one rowers opinion...but for my use its Awesome!...Happy Rowing!"
Paul Roberts, Napa, CA
Boat Specifications
DIMENSIONS:
Length 18ft.
Beam 26 in.

WEIGHT:
Fully rigged 50 lbs.
Unrigged: 38.5 lb.


BUILT FOR LIFE! Echo Rowing, LLC will warrant its products for the
lifetime of the shell from date of delivery. See details.
The Echo Rowing Shell
Designed for recreational rowing and open water rowing in smooth or rough water, Echo Rowing's cutting-edge boat design combines unprecedented ease of use with extraordinary coastal rowing performance and stability. Our easy-to-handle shell enables you to explore large bodies of water with confidence, knowing the Echo can handle chop, wakes and swells. Echo's unique life-time Folding Rigger System makes for easy set-up, transport and storage. Closed decking, rolled gunnels, self-bailer and built-in long delta keel make the Echo the ultimate versatile sliding seat rowing shell to launch from the beach or any height dock.
Leaving a remarkably small wake at normal rowing speeds, the Echo will rise and skim like a powerboat when pushed by a strong rower. Durable fiberglass construction resists damage from rocks and sand. The long Delta keel reduces sideslip in crosswinds, resists stalling, and offers easy maneuverability in close quarters and cross currents.
For pure recreational rowing
The Echo makes open water rowing an accessible life-time sport for anyone who loves nature and outdoor fitness. In addition, the Echo delivers the benefits of a low-impact, full-body workout and gives you the advantages to win open water rowing competitions everywhere.
Echo Rowing Easy Boat Care Tips:
Clean tracks and seat wheels with a rag or towel and water (never use grease as it may build up in the wheel bearings)
Hose down boat after each use to keep your shell like new.
Hose down oarlocks.
When needed, open bow cork to allow air to flow through the hull and to dry out residual moisture.
Any boat soap and water are usually sufficient to clean all surfaces.
Use a marine polish (we recommend Mirage Polish) on occasion to prevent fresh water crud or salt from accumulating.
Key Boat Features
Echo's lifetime Folding Rigger System
EQUIPPED WITH:
Echo folding rigger system, composite construction with Concept II locks. Rigger restraining strap (orange buckle doubles as Coast Guard approved whistle). Built in suction bailer (standard). Center Mount Adjustable Foot Stretchers with 2 nuts on center; Foot stretcher (traditional clog and heel cup with ECHO Trekking stretcher fits any size shoe or boot). Seat (fiberglass and foam composite). Carrying handles built into bow and stern. Two 12' pieces of line for tie down or tying to dock. Internal vertical and horizontal foam shear webs for longitudinal stiffness and flotation.
CONSTRUCTION:
Center Mount Adjustable Foot Stretchers with 2 nuts on center. Internal vertical and horizontal foam shear webs for longitudinal stiffness and flotation.
Beach Launch Tip:
We use, recommend and sell Wheeleez Canoe & Kayak Carrier™ for rolling Echo's from Little Harbor Boathouse to and from the beach. Wheelez makes getting your Echo rowing shell to your favorite launch spot effortless. We sell Wheeleez at our Water Sports Shop and can drop-ship directly to you if need be! Call to order yours today:  781-990-3552