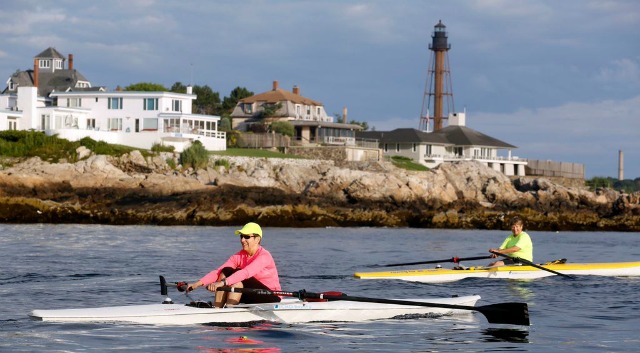 The Key Is In The Sliding Seat!
Unlike traditional rowboats or kayaks, sliding seat rowing shells are quality fitness tools that allow you a low-impact, all-over body workout. Our versatile shells are simple to operate, stable in open water conditions, and effective in providing you with a fun, safe workout, whether you are a novice or an experienced rower. Our unique folding riggers and long Delta keel make our boats portable and easy to launch.
What better investment can you make for your health? We offer you the thrilling experience of being on the open water, combined with the pleasure of a life-long, low-impact, stress-relieving, calorie-burning workout.  We know our boats can improve your health, and we count on it by building them to last.
All new OMNI T1X:
Row everywhere, every one! Order yours today for spring 2015 delivery!

The OMNI T1X next-generation, cutting-edge, gold standard touring class open water and coastal rowing shell is available for purchase spring 2015!   The new OMNI T1X is 19' long with significant design updates to row and track well on flat water as well as be the ultimate performance and safe rowing shell rowing through chop, wake and swells found on magnificent large bodies of water.   We've modeled the OMNI T1X after the best features of U.S. manufactured open water shells and built-in the efficient, self-bailing open transom found in all European built Coastal Rowing Shells. The OMNI T1X is a versatile, adjustable shell accommodating both tall and short rowers of varying weights.  You'll find the slightly uplifted bow shape slicing through chop with ease, the self-bailing open transom efficiently shedding water against the roughest conditions; the long, tapered built-in keel tracking well and the hull shape & stabiity necessary to catch, lock-on and drive past the competition in the roughest of open water stretches. Meeting the maximum length for Open Water Competition Touring Class shells at 19', the new OMNI T1X is light, stiff and ready to deliver optimal performance for our most competitive endurance rowers and a boat to last a life-time for recreation and fitness rowers. 

Fit for Life!

Coastal Rowing For Health & Fitness

Rowing on the open water is the perfect activity to keep in shape, lose weight, cross-train for another sport, compete, or recover from an injury or surgery. Because it is a low-impact activity, you can row at any age despite specific physical challenges.

Open water rowing is an ALL-BODY SPORT, toning your arms, legs, chest, back, and abs. Rowing is also recognized as a COMPLETE CARDIOVASCULAR WORKOUT which is highly aerobic and burns calories quickly. What most people don't realize is that rowing IMPROVES JOINT HEALTH through a wide range of motion. In addition, open water rowing RELIEVES STRESS and allows you the opportunity to remove yourself from the world around you, to connect to the calm and quiet of the water, and to meditate through the rhythmic, repetitive motion of your stroke.
Low Impact + High Results
Both competitive and recreational rowing are unique in comparison to most sports because they exercise all of your major muscle groups. Everything from your legs, back, and arms are engaged while rowing. In addition, rowing is a low-impact sport. When executed properly, the rowing stroke is a fairly safe motion, providing little room for the serious injury often found in contact and high-impact sports. 1
Lose Weight
According to Fritz Hagerman, Ph.D., a professor in the Biological Science Department at Ohio University, "Competitive rowers expended almost twice the number of calories on a 2,000-meter course as a runner in a 3,000-meter steeplechase."1 However, since rowing is low impact, you will not experience the same wear and tear on your body that you would if you were a runner. Plus, you build strength in your upper body and core.
Help Your Heart
Cardiovascular training involves any activity that requires the use of the large muscle groups of the body in a regular and uninterrupted manner. Rowing is one of the few non-weight bearing sports that exercises all the major muscle groups. In addition, the consistent and all encompassing activity associated with rowing, combined with being outdoors on the water, has an unparalleled impact on reducing stress.2
Stabilize Your Body
Rowing in a boat requires your stabilizer and neutralizer muscles to fire up. Those same muscles might help you avoid a fall or help keep you from hurting your back when lifting a child or a heavy box awkwardly. Your body core, or trunk, becomes stronger and better prepared.3

1 Marie Hutchinson, "The Benefits Of Rowing"
1 Marie Hutchinson, "The Benefits Of Rowing"
2 George Christian, "FITNESS - ROW YOUR WAY TO BETTER HEALTH"
3 Bob Condor, "Living Well: Rowing's benefits reach to the body's core"